Sus­tain­abil­i­ty and Glob­al Jus­tice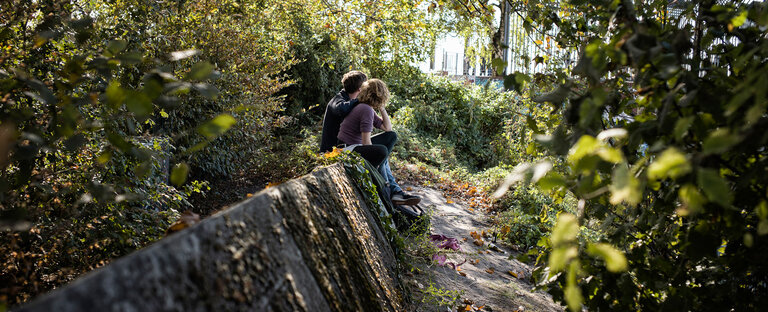 The Research Class based at IRI THESys deals with the diverse ecological and social aspects of concepts of "sustainability" and "global justice". The Research Class has been funded by the Humboldt-Universität Foundation since 2013.
The Humboldt-Universität Foundation has been sponsoring the "Sustainability & Global Justice" Research Class since 2013. Here, students of European ethnology, philosophy, geography, agricultural sciences, economics and law work on interdisciplinary projects under the umbrella of the Integrative Research Institute on Tranformations of Human-Environment Systems (IRI) and gain insights into research on the dynamics of human–environment relations.
The aim is for young researchers to learn about progressive and innovative approaches at the interfaces of the humanities and social and natural sciences, as well as between science and society, and to apply these themselves. The scholarship holders independently develop research projects and implement them together – from the generation of ideas to the conception, planning and implementation of the research to the public presentation of the results. In the course of the student research, the small groups deal with issues of sustainability and global justice at the Humboldt-Universität zu Berlin as part of an interdisciplinary collaboration.
2023/2024: Right of nature – right to food?
2022/2023: The light and dark sides of the mobility transition
2021/2022: Science communication
2020/2021: Academic travel and sustainability
2019/2020: Water security in times of climate change
2018/2019: Sustainability in the HU's canteens
2017/2018: Food, sustainability and global justice
2016/2017: Sustainable food markets
Prof. Dr Tobias Krüger Professor of Hydrology & Society, Department of Geography, and Deputy Director, IRI THESys
Dr. Bettina König Innovative Sustainable Land Management, IRI THESys